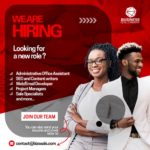 Website Business Seals Consulting Firm LLC
We are the driving force businesses need to stay competitive!
We provide you with a one stop shop to solve the critical issues organizations are facing, for-profit or non-profit. Our integrated solutions are not only what differentiates us, but also what make our clients successful. We are the Elite in the Midwest on a mission to empower entrepreneurs and businesses. Our focus on Start-ups and failing businesses to improve their operations and re-design their processes.
Do you want to supplement your education with actual hands-on experience in project management, business management, operational excellence and marketing fields? Business Seals Consulting Firm is seeking an energetic, responsible intern to join our growing organization. You will focus on learning how our project management, marketing, or operations department runs. If you are an ambitious individual who wants to build a career in project management, business management, or marketing, then we want to work with you. Your work will first and foremost include; assisting coordinating projects, writing business plans to include financial projections, conducting business assessments, preparing promotional presentations, monitoring social platforms, conducting market analysis, and making clients bookkeeping updates.
Responsibilities
– Perform clerical duties, take memos, maintain files, and organize documents
– Assist in preparing information and research materials; create and maintain PowerPoint presentations
– Take notes and memos during meetings; type documents, drafts, and reports; sort and manage files
– Handle workshop delivery logistics
– Plan and present marketing projects
– Performing some bookkeeping tasks
– Assist with daily administrative duties
– Assist in the creation of marketing signage, email campaigns, online promotion, etc.
– Assist in the distribution or delivery of marketing materials
Qualifications
– Pursuing a college degree in business related field
-Excellent communicator and team worker
-Excellent organizational and multitasking skills
-Strong desire to learn along with professional drive
-Excellent verbal and written communication skills
-Editorial skills and design-creative skills is a plus
-Quickbooks experience preferred