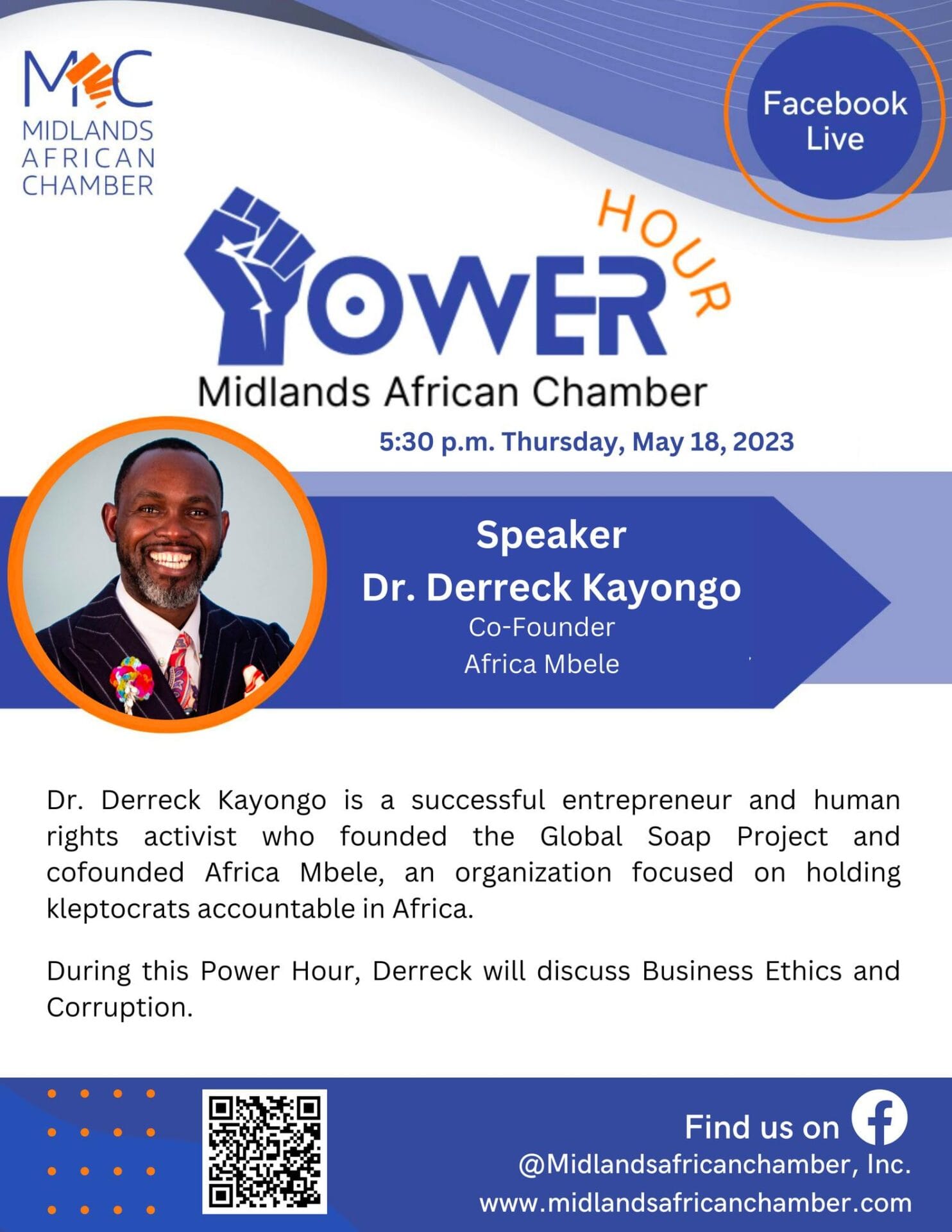 Power Hour | Business Ethics and Corruption
We're excited to have Dr. Derreck Kayongo , cofounder of Africa Mbele as the guest at our upcoming Power Hour on Thursday, May 18, 2023, at 5:30 p.m. During this Power Hour, Derreck will discuss Business Ethics and Corruption. To attend, visit our Facebook page at the designated date and time.
From Ugandan refugees to successful entrepreneur, CEO, CNN HERO, and renowned human rights activist, Derreck's journey inspires audiences to dream big. Through personable and articulate storytelling, he shares his visionary ideas for harnessing the power of observation and creative problem-solving, applicable to any organization or community. It's all about taking responsibility while looking for opportunities to improve.
Derreck is the founder of the Global Soap Project: a humanitarian aid organization that collects discarded and unused soap from thousands of hotels worldwide, reprocesses it, then distributes it to in-need populations around the world. The project was born from his simple observation about how much soap is available in hotels, and how much is thrown away when hotel rooms are turned. This simple observation became an innovative idea that is now battling global health issues in 90 countries. Hygiene-related diseases, and the resulting deaths, have dissipated in many at-risk communities, thanks in part to Derreck's creative problem-solving.
His energy and enthusiasm are unmatched as he brings his stories and principles to life. Key factors of his personal and professional success are identified with the memorable acronym S.E.L.F.: Service, Education, Leadership, and Faith. He calls upon his dynamic experiences to empower audiences, inspiring an entrepreneurial spirit made possible only through creative problem-solving. Derreck's emotionally-packed presentations linger long after his speech, empowering audiences to invent their self-made motto of success so they can create tangible change in the world.
Derreck's passion for helping others and commitment to innovative thinking led him to the role of CEO of the National Center for Civil and Human Rights. During his time as CEO, he elevated the global visibility of the Center, showcasing stories of victims of civil rights abuse and the heroic actions that changed the course of history.
Derreck Kayongo is an internationally recognized visionary and humanitarian. The Global Soap Project demonstrates his creativity and innovation, making him a leader in both global health and environmental sustainability.
Today, Kayongo is the Co-Founder of Africa Mbele an organization whose principal purpose is to build a movement with in the 4.7 million African diasporas in the USA to bring to account the kleptocrats in Africa. By doing so the organization hopes to educate, mobilize, agitate, and activate the diaspora into action aimed to bring to light the consequences of extreme dilapidating corruption on the continent. Again Kayongo's cathexis focus on this principled goal makes him one of the more prolific African Diasporic humanitarians today.