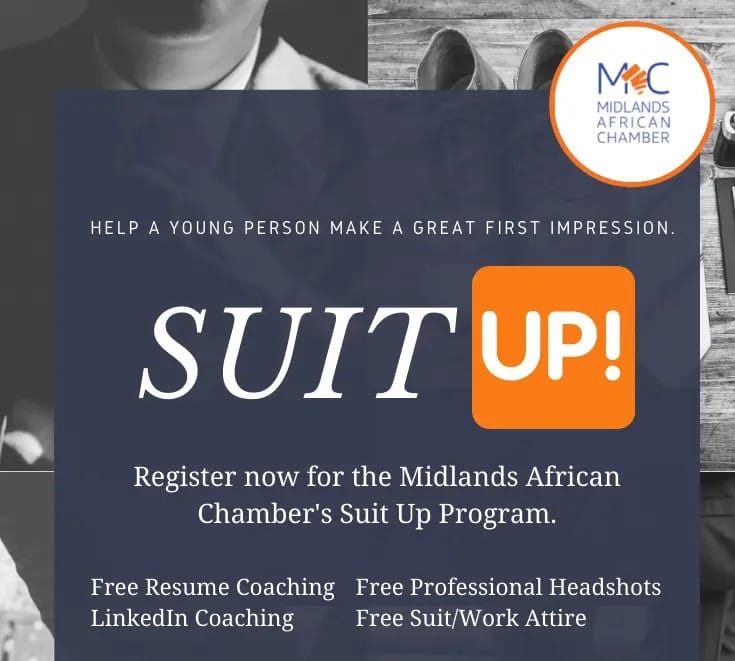 Suit Up by MAC
The mission of the Midlands African Chamber's Suit Up Program is to empower young men and women to achieve economic independence by providing a network of support, professional attire, headshot, and job readiness workforce preparation. This program is designed to create opportunities for teens and young adults in at-risk populations in black and brown, immigrant, and refugee communities so as to inspire and feed the pipeline of future minority entrepreneurs. We aim to reframe their vision of a future away from gang activity, violence, crimes, and drugs. This program is a pathway to helping young people envision how they can achieve a positive and prosperous life, by investing in themselves and their business ideas.
Participants will have FOUR (4) stations during the event from 10 am to 2 pm. and they will also have the opportunity to participate in a Resume/LinkedIn Workshop before or after the event.
Station 1: Suit/Business Attire distribution
Station 2: Mini Makeover
Station 3: Headshots
Station 4: Mock Interviews
You will have the chance to select the stations you would like to stop by while you get your ticket. Please make sure to indicate which stations you would participate in order to facilitate planning and a smooth flow of the event.
Disclaimer:

Photo and Video Release
By registering and participating in this event, you consent to the recording of your likeness, image and/or voice and authorize the Midlands African Chamber to use photographs, videos and audio recordings containing your likeness, image and/or voice in any medium for any purpose.