Full Time
This position has been filled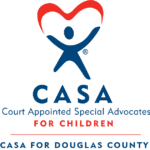 Position Summary:
The Outreach Specialist is to promote CASA for Douglas County's mission, vision, values, and goals and recruit volunteers in the community to advocate for the best interest of children involved in juvenile proceedings in Douglas County. The Outreach Specialist is responsible for developing and coordinating community partnerships, executing recruitment and communication plans, and executing events for prospective and current CASA for Douglas County volunteer advocates.
Essential Job Duties:
• Provide first response to prospective volunteers
• Develop and implement outreach programs
• Organize and participate in community events to educate the public about CASA for Douglas County and recruit volunteer advocates
• Develop and facilitate engaging, high-energy, creative, dynamic, and accurate educational presentations for a variety of age groups in diverse settings
• Raise visibility and awareness of the organization's services, activities, and/or events through various methods, such as distributing flyers, setting up displays, attending tabling events, speaking about the
CASA mission to attract volunteer advocates
• Develop a recruitment strategy that promotes inclusivity and welcoming and engages a diverse group of volunteer advocates
• Audit volunteer advocate recruitment materials for accessibility to different audiences
• Develop an awareness of barriers to volunteering and a plan to overcome and/or remove barriers where reasonable
• Deliver educational tours to prospective volunteers and special guests as needed
• Establish relationships with local businesses, organizations, chambers of commerce, and others to promote awareness of CASA for Douglas County's mission and objectives and recruit volunteer
advocates
• Conducting research on community needs, trends, and issues to identify potential outreach projects
• Conduct community surveys to identify needs and develop processes to address them, including identifying volunteer advocates with the skills necessary to address needs
• Record and report on data about community needs, participation rates, and outcomes of events and programs
• Maintain volunteer database to include verification of completed background check
• Perform other duties as assigned
Qualifications:
• Bachelor's degree in public relations, communications, marketing, or related field preferred
• 2 or more years of professional experience preferred in public relations, communications, marketing, or related field preferred
• Strong written and verbal communication skills
• Demonstrated experience and success with effective communication to groups of varying sizes from various backgrounds
• Strong organizational ability and attention to detail, including ability to work independently and coordinate multiple, diverse projects, set realistic deadlines, and manage a timeline
• Patience
• Strong business acumen and leadership abilities
• Demonstrated ability to anticipate and solve practical problems
• Outstanding judgement, sensitivity, and high discretion with confidentiality
• Proficiency in Microsoft Office Suite
• Must have a valid Driver's License, reliable vehicle and proof of auto insurance
The above statements are intended to describe the general nature and level of work being performed by individuals assigned to this position. They are not intended to be a list of all responsibilities, duties, knowledge, skills, and abilities required of individuals so classified.